Restaurant Review: Del Frisco's New York City Best Steak Ever!
If you're in the mood for a fantastic dining experience you must give this restaurant a try!
The decor is beautiful. The restaurant is huge. There are tons of tables, two floors, high ceilings with windows that drop from top to bottom. It was the perfect place to relax inside while watching the hustle and bustle of tourist-central.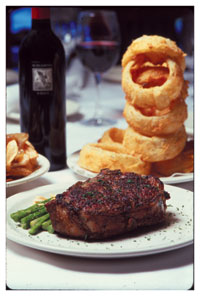 The salad was pretty average, nothing to write home about. I'd probably get an appetizer instead. The caesar I got was okay but definitely not spectacular.
However, when my steak arrived the waiter waited around to make sure it was cooked perfectly. A very nice touch especially since restaurants rarely seem to cook steaks to the temperature of your liking the first time. It was perfect! I would tell them next time to go easy on the butter on the plate because the steak was sitting in a pool of it. However, this was easily remedied by getting a new plate. The ironic part? Probably that I dunk each bite in bernaise sauce which is essentially butter and tarragon.
The side dishes were spectacular. The macaroni and cheese was stuffed with real oozing cheese. The creamed spinach was the perfect balance of cream and spinach (though if you're a vegetarian note that there is bacon in it). The onion rings were GINORMOUS and the homemade potato chips (which also made their way to the bernaise sauce) were to die for.
We got the chocolate souffle which was pretty standard and yummy but truthfully I could barely breathe after finishing off my entire steak complete with butter and bernaise. Good thing we decided to walk home!