Visiting an Estancia: The Perfect Day Trip from Buenos Aires with Camino Pampa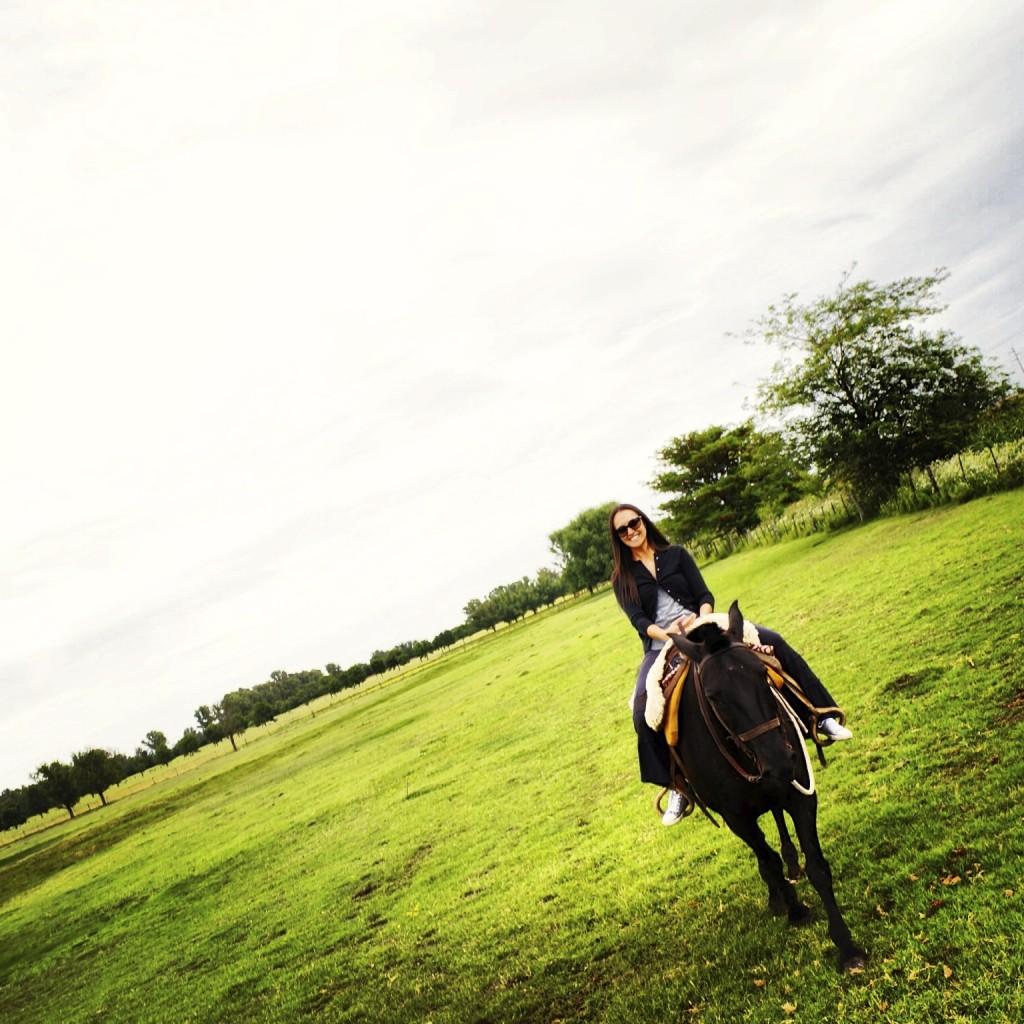 During our stay in Buenos Aires, everyone told us that we simply must make it out to an Estancia (ranch) just about an hour drive outside of the city. We chose to do our tour with Camino Pampa, which came very highly recommended by the Four Seasons' Concierge. We had an incredible experience and I think that this day trip is a must for every Buenos Aires visitor.
We were collected promptly from our hotel at 9am, as promised by Guillermo (our tour guide). He spoke perfect English, was extremely knowledgeable, professional and just a really nice and interesting man. We had about an hour drive out to the pampas. We chatted the entire time (my husband has lotssss of questions about everything).  Our first stop was the town where Guillermo was from, San Antonio de Areco, a unique, well-preserved colonial and historical town (Lonely Planet boasts that it is the "prettiest town in the pampas." We visited a Silversmith workshop (Draghi Silver), which houses a museum too. Here, we learned about the traditions of the gauchos and their uses of silver. The small museum highlights gaucho knives, horse gear, and mate (the local tea) paraphernalia. Guillermo gave us a guided tour explaining the history and relevance of each item. You also have the opportunity to purchase some silver (but they do not pressure you at all, in fact, we had to bring it up). Guillermo walked us through the main square, the city's main church (beautiful) and then onto a few local restaurants and old gaucho bars (called pulperías) to check out the local hotspots. As I mentioned before, Guillermo was extremely well-informed and welcomed my inquisitive husband's many questions.  On our stroll, we stopped in a local store, which sells gaucho clothing (not for tourists). Guillermo informed us here that the day before, he had taken Madonna's children on the same tour! (He told us because the shopkeeper brought it up as they were quite excited) Fun, pointless fact: Madonna's children bought a pair of gaucho shoes that are similar to Tom's shoes most of us know. We really enjoyed this short visit to the town and found it very interesting to learn about its history (and that they filmed a Stella Artois beer commercial here!)
Next stop, Estancia El Ombu, which from the research I did is considered the best. It did not disappoint. Upon arrival, we were greeted by the woman who runs the estancia, forgive me but I cannot remember her name and I feel awful because she was lovely. She promptly brought us beer, wine and the most delicious beef empanadas anyone has ever tasted. Seriously, I don't even love empanadas generally and I will dream of these forever.  My husband even asked for seconds. We sat outside and just enjoyed the ambience as we ate.When we were finished, we were given the option of taking either a carriage ride or a horseback ride. Feeling a bit adventurous, we chose to do the latter. After being sprayed down with mosquito repellent, we were off. Despite the somewhat pesky mosquitos, the ride was still beautiful. I did learn afterwards though at lunch that another man staying on the ranch (El Ombu is also a Bed and Breakfast) fell off a horse and broke his arm when it stepped on him. Knowing that, I might suggest the carriage ride to be safe. I never need to end up in a hospital abroad–that's a lifetime goal.
Anyway, after we were done, Guillermo showed us the garden where our lunch would come from, as well as the food being prepared. Watching all the different meats roasting on a giant grill. I must say that this was one of my favorite meals throughout our entire trip. Not only was the food delicious, but we thoroughly enjoyed chatting with Guillermo over a few glasses of wine. Our favorite part of traveling is getting to know the locals and their way of life. Lunch served up several kinds of traditional meats and the freshest salads right from their own organic garden I mentioned earlier.
After lunch we watched a presentation by the Gaucho with the horses that was short and sweet. This was followed by a short tour of the El Ombu Estancia. Afterwards we bid Guillermo farewell and our driver took us back to our hotel in Buenos Aires. It was a fabulous day that I think no trip to Buenos Aires is complete without.
I highly recommend this trip. I also suggest booking directly (as opposed through a hotel) because it will be significantly less money (the hotels of course add a hefty fee).
Everything I mentioned (including the wine and beer) is included in the price of your experience.
To book a tour with Camino Pampa, please do one of the following:
Visit their website and submit an inquiry, send them an email to [email protected].