Welcome Travelingpanties: A Review of Acqualina Resort & Spa, the Best Luxury Hotel in Sunny Isles Miami Beach
If you're a regular reader of this blog and appreciate luxury travel, you likely are not at the age where you enjoy clubbing until 3am in South Beach. Now, don't get me wrong. I LOVE a few good cocktails on my vacation but there's a difference between when the Jersey Shore did Miami and what I envision my perfect Miami Beach vacation to be. That's why this trip when choosing my hotel, I decided to go a little north of South Beach and head to Sunny Isles instead. Sunny Isles is a place that until recently I had never heard much about, but after this past trip I am pretty sure this is where I will spend every Miami visit I have. Its beaches are beautiful, its like a more grown up Miami for luxe-loving visitors like moi! Here is my review of one of the most luxurious hotels I have ever stayed–especially in South Beach, Miami–the Acqualina Resort and Spa. There's a reason Travel + Leisure named it one of the best hotels in the U.S.
Arrival
The closest airport to Sunny Isles (where Acqualina Resort & Spa is located) is Fort Lauderdale International Airport. Miami International Airport isn't far though either, it's just less desirable as it's quite chaotic. When you pull into Acqualina Resort & Spa of Sunny Isles you'll be Wow-ed by rows of Rolls Royces and TESLAs. Ooh and a gorgeous Italian-inspired fountain. We valet parked our car and when we reached the front desk we were offered champagne, bellinis or mimosas—yes please! We were also given cool refreshing towels. aaaaaah.
The Grounds
This über luxurious property, a Five-Diamond AAA hotel and also ranked as one of the top 25 luxury resorts in the U.S. by Trip Advisor takes its Five Star rating very seriously. The grounds are immaculate and ornately decorated. While the lobby is traditional, guest rooms are more modern—both though are gorgeous. The hotel is deceivingly small—there are only 54 hotel rooms and 44 suites so you have to book early to secure a room, especially around holidays.
The hotel features 3 restaurants, 4 pools, a world-class spa —ooh and a prime location steps away from the ocean.
There is also a Fitness Center and Business Center. It's truly an intimate and relaxing oasis.
The Pools
The pools are all gorgeous and each a little different. The two main pools are located near Costa Grill where you can order food and drinks from waiters who circulate. The pools are all gorgeous and all the chairs and cabanas are an eye-popping red and white (evoking an Italian spirit). The main pools are located near Costa Grill where you can order food and drinks from waiters who walk around.
There is also an adult pool which is extremely relaxing. The water here felt like a warm private bath. This adult pool was greatly appreciated. The hotel is quite family-friendly and being able to relax without kids around was a welcomed amenity. (Though I must admit the children at the main pool were very well-behaved).
There is also a separate pool in the spa that is available for customers and hotel guests to use.
Special Pool Treats? Yes, servers frequently wander the property offering cool mini treats like frozen grapes, smoothies and iced coffees.
The Beach? Attendants will gladly set up chairs and umbrellas for guests.
Worth mentioning: At about 2pm the entire property becomes shady as it is blocked from its new development next door. If you're a sun-bather you will want to make sure you get outside early to catch some rays. The beach gets shady too. Oh, and the property is very private and secure. There are several guards around and guests are required to wear wristbands, which change color each day.
The Lobby
The lobby is extravagantly decorated with walls with cascading waterfalls, large chandeliers, rich carpets and traditional and opulent decorations. The word lavish comes to mind.
The Rooms
We were in room 2803-B. We were upgraded to a one-bedroom ocean-view suite (undoubtedly because I was there for a press review). The room and the views are absolutely some of the best I have seen in my entire travel-writing tenure. The suite was sprawling and simply magnificent.
Upon entering the room, I noticed a comfy day bed and a desk. Beyond the desk was a large living room with a large, comfortable couch and two modern oversized chairs.
To the right was a full kitchen complete with granite countertops and new luxury appliances. There was an espresso machine, dining table, a stocked fridge (instead of a minibar). The freezer even had ice cream (available for purchase).
But I digress—the best part of the room, next to its gorgeous furniture of course, was the amazing, sweeping view of the ocean. You could enjoy these from your bed as well also courtesy of the floor-to-ceiling windows (also in the living room, and kitchen).
The views at Acqualina Resort and Spa are truly remarkable no matter where you are on the property.
Room decor?  Modern with whimsical touches.
Closet/Dresser Details? There was a walk-in closet in the bedroom furnished with California Closet-esque organization. What I wouldn't give to take this home with me. Also plenty of storage drawers in dressers. And everything was very new and unmarred.
Charging Situation? Plenty of outlets. And in both the living room and bedroom there were charging options built into the media console.
Turn-Down Service: Yes.
Bottled Water?  Complimentary Acqualina bottles at Turn Down
Coffee maker?  Espresso machine.
Complimentary Shoe Shine? Yes.
Reading Material in the Room? Yes, lots of Miami-themed magazines and books about Luxury hotels. There was also a small library under the television in the living room filled with several books for guests to enjoy.
Designer Sheets? Yes. Frette linens and goose down duvets on the beds.
White Glove Inspection: One of the cleanest hotels ever. Everything was brand new (or seemingly so)
The Bathroom
The bathroom was enormous. There were his and hers sinks, an oversized jacuzzi complete with bath salts and rubber duckie, and a separate water closet with bidet. There was a giant rain shower, which also came equipped with a separate nozzle. 
Makeup Mirror? Yes! It even had a bench and a vanity where I could SIT down and do my makeup. This is a great luxury to me.
Hairdryer? Yes. But not high-powered. It was an ion dryer but I never think these work very well.
Designer Toiletries? The first hotel to have ESPA-branded bath products in the hotel room. They were fabulous. Most shampoo makes my hair flat but not this! Loved! Some made their way home with me.
Towel quality? Excellent
Robes? Yes and slippers, both branded with the Acqualina A.
Amenities? Q tips, Cotton Balls, Shower cap, and delicious-smelling after sun lotion. And Rubber Duckie!
The Food & Drink
The hotel has several restaurants. Costa Grill is down by the beach and pool and available from 11-6pm. AQ by Acqualina is available for breakfast and dinner. There is also a sushi bar here. The dining room at AQ is stunning. It features an enormous floral arrangement, large windows, plenty of light and trickling fountains.  The outdoor seating though is equally as gorgeous. It overlooks the beach, pools and lit-up palm trees. We had dinner al fresco under a full moon (hosted) when I was here and it was absolutely beautiful.
And I didn't have a chance to enjoy breakfast at AQ but the spread looked pretty outstanding. I spoke to a couple guests who confirmed this.
The hotel is also home to Il Mulino, which unfortunately we did not have a chance to try this trip. For a light breakfast or a coffee there is also a coffee shop.
While at the hotel we experienced Costa Grill for lunch and AQ for dinner. I ordered a kale salad with salmon and quinoa for lunch and it was very good but pretty tiny. The ceviche we got was quite different than what I was used to (it was Corvina) and it was not very good at all. The fish was difficult to chew and it was an off-putting grayish color. My mom ordered the Cobb salad and that too was not stellar either. For dinner at AQ I had sushi and my mom had Filet Mignon, both were good but not excellent. We were a bit disappointed with our meals here because the hotel was so gorgeous that we never wanted to leave and unfortunately felt like we wanted to for our meals the next day.
Classy Hotel Bar? Yes. Lovely bar inside AQ Restaurant.
The Spa
I could write an entire entry just about how incredible the spa is. It was voted best day spa in Miami by Allure magazine! This is certainly one of the top spas I have ever visited. Everything about this Forbes Five-Star experience (one of only 48 in the world) was top notch and extremely impressive. From the treatments themselves to the attentive and knowledgeable therapists to the facilities themselves— I was blown away.
As I mentioned, there is a separate pool for spa and hotel guests. It also features a roman-style waterfall that empties into the hot tub. We couldn't resist a little photo shoot. The pool area is co-ed.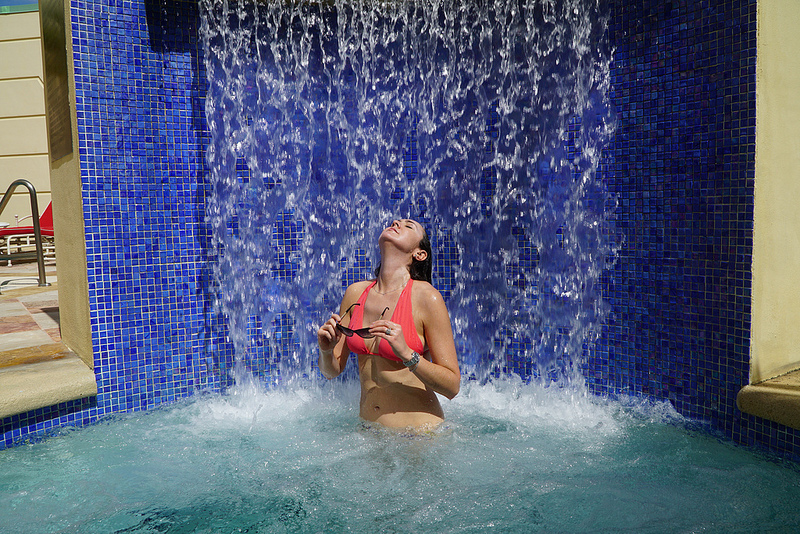 The relaxation rooms, however, are separate for men and women. The women's lounge features comfortable recliners separated by bamboo walls for privacy. It overlooks the pool and has flowing white curtains.
The snacks and special teas were great. If you go you must try the cookies, which are done by a nearby bakery. They change varieties daily (when I was there they served Orange Ginger–yum). They were delish.
And then there are the amenities in the changing rooms. There is a sauna, steam room as well as colorful experience showers. The steam room is fabulous and also features rotating color lights that stimulate each of your seven chakras. The experience showers featured lights and scents as well.
I got the firming and contouring body treatment here (I was hosted). It was fabulous. It began with a foot ritual where we discussed what I was hoping to get out of the experience. We were also able to discuss any health concerns, etc. The treatment itself was fabulous (and I swear I could see a difference after just one treatment). My therapist was also superb. I swear I was ready to say I didn't see a difference. I was very skeptical but I really felt like I could see a difference after the one treatment (they recommend 6). Oh and you can also book a very romantic couple's suite!
The Little Things
Did I feel truly welcome by the staff? Yes, all staff members were extremely warm and friendly.
Wi-Fi? Yes. Complimentary.
Mini-Bar? Yes. Ridiculous spread of treats. And they had Acqualina hats, which both my mom and I happily purchased as souvenirs (nerd alert).
Any other noticeable things? Loved the gorgeous water fountains flanking the front desk in the lobby and the beautiful fountains when you pull into the entry.
Good For Families: Yes, they have special program for kids.
Where do Most Guests Hail From? Seems like most guests were European and this only added to the Mediterranean feel of the hotel.
Room for Improvement
I have very few negative comments about this hotel. The room and spa are probably in my top five of all time. However, because room rates are quite high the fact that there is no sun after 2pm may dampen some people's sunbathing hopes—especially if they like to sleep in. For me, however, who is constantly trying to avoid the sun, the shade was a welcome interruption—especially the day of our trip when it was nearly 90 degrees.
Also, while the restaurants are gorgeous and feature stunning views and great ambience, the food could be a little better since guests will undoubtedly want to spend as much time as possible at the property.
The Wow Factor(s):
So many things! I don't know where to start! My most memorable experiences were the spa (which I returned to each day to revisit the steam room–guests have full access) and the adult pool. The rooms and the views from our bed were also unforgettable. Oh and all the fountains around the property. 
The Bottom Line: Would I recommend it? 
Yes! Travelingpanties approved! I can't wait to come back. And if you can't snag a room during peak season or afford the prices here, you MUST at least come for a spa treatment.
Acqualina Resort & Spa Information
Address: 17875 Collins Ave, Sunny Isles Beach, FL 33160
Phone: (305) 918-8000
Cost: Rooms start at about $450 during off season (summer) and about $800 during peak season (winter/spring)
*Disclaimer*
As is common in the travel industry, writers are provided with complimentary services for review purposes. Although my visit was part of a press trip–meaning that I did not pay, all opinions herein are my own. You can't buy the love here, people! Just ask my Mom! I was given my room, one lunch, spa treatment, and one dinner on a complimentary basis for purposes of a review. As you can see though I tell it like it is!