Last Minute Affordable Luxury Escapes for the End of Summer
Everybody loves a bargain and it is possible to have a fabulous summer vacation without breaking the bank.  You may think you can't afford a nice summer vacation but I have five great places that prove that you can–even last minute! It's not too late to take an affordable luxury escape and enjoy the last bits at the end of summer. So get your tickets soon for a romantic, cheap holiday before you blink and it's fall!
Park City, Utah
Park City is known as home to the famous Sundance Film Festival, you see all the celebrities here and while it would cost a fortune to visit during ski season, it's a fraction of the cost in the summer–when I personally think its at its best. The saying goes, you come for skiing and you stay for the summer! Here are 5 Reasons to Visit Park City, Utah in the spring, summer or fall.
There are an endless array of outdoor activities in the summer like hiking, biking, zip-lining. There are also outdoor movie screenings up in the mountains at night, you can bring wine and a picnic, it's fantastic. And make a reservation at the High West Distillery, which feels like an old-timey saloon. One of the best parts of Park City in the summer is that the hotels drop considerably and rooms at the top luxury hotels that would be over $1000/night are less than $300. You can get a room at the Waldorf Astoria with access to all its luxury amenities like a Five Star spa and pools for less than $300 a night if you want to treat yourself. And they serve s'mores each night by campfires, which is fun for families and couples alike.
Cape Breton
Cape Breton is my dirty little secret for an affordable Northeast summer getaway. People forget about Canada and it's so close and easy to get to! Think Cape Cod but less commercialized and half the price. Cape Breton is part of Nova Scotia (where William and Kate chose to honeymoon by the way). They visited another island, but Cape Breton is my personal favorite. There are so many great things to do here and that's what makes it the perfect luxury escape: there is the Cabot Trail, a beautiful drive along the coastline that is consistently ranked as one of the most scenic drives in the world.
There is also Highland national park, tons of beaches and world-class seafood that rivals Maine– with just one difference! It's a fraction of the cost, you can get a lobster dinner in a Five Star restaurant for $35! And their hotels are affordable too! Keltic Lodge is a great spot for families, for less than $250/night you'll also get a family breakfast and kids eat free for dinner. If you're looking for ultimate luxury, check out Cabot Links, which is on the water and has killer golf courses for less than $250 during peak summer season. Check out my list of the best things to do in Cape Breton to make your last minute travel perfect.
Charleston
Charleston is one of my favorite places in the United States (was ranked top city in the U.S. by Conde Nast Traveler and Travel and Leisure in 2014). It's got old-fashioned southern hospitality mixed with a trendy culinary scene that will impress even the most seasoned travelers. There is so much to do here–Fort Sumter, you can tour the old plantations, there is a great aquarium, but you have to slow down in Charleston and enjoy the pace.
Take a walking tour about the city's history or even a horse-drawn carriage ride. And, the southern cooking is worth the trip alone–but it's more than just fried chicken, the culinary scene here is as trendy as places like New York for much lower prices. I even compiled this handy list of the best places to eat in Charleston. The Charleston Marriott is a solid Four-Star hotel that you can book for under $250 a night or you can check out the Hilton Garden Inn for as low as $150. And if you catch a special you can get even lower prices. It's about a 5-7 minute cab ride to most places you want to go but it's worth it for the money you'll save. If though you have your heart set on staying downtown, my picks for the best luxury hotels in Charleston are John Rutledge House and Charleston Place.
Cleveland
I know what you're thinking, Ohio! But Cleveland has really come into its own in the past few years. It's an easy destination to reach by car and with lower gas prices now, you can save even more. There are tons of amazing festivals in Cleveland happening over the summer! There is the Cain Park Arts festival, one of the top rated arts festivals in the world, the World Beer Festival, Hamburger Festival, and even a Duck Tape festival! There is of course also the Rock and Roll Hall of Fame, you can catch an Indians game at Progressive Field, enjoy the world-class art museum, which recently finished renovations, and an amazing botanical garden.
It's also only an hour away from the country's second largest amusement park, Cedar Point! And Iron Chef, Michael Simon is also a Cleveland native and has several restaurants here, which really inspired a thriving the culinary scene. Here are some of the must try restaurants in Cleveland. And everything in Cleveland is super affordable–You can stay at most Four Star hotels downtown for under $200 like the Westin, which just recently opened.
Sunny Isles, Miami
If you're looking to score some beach time, Florida has great deals in the summer. Yes it's hot, but that's perfect beach weather. And everywehre is air-conditioned. The stars of course all flock to South Beach for the winter but prices are outrageous then. This is your chance to experience the same luxury for less! And you'll actually be able to get reservations and into the clubs. Don't get me wrong though, it's still a scene even in the summer. I recommend staying in Sunny Isles, which is just about 10 miles from Miami Beach but still right on the ocean.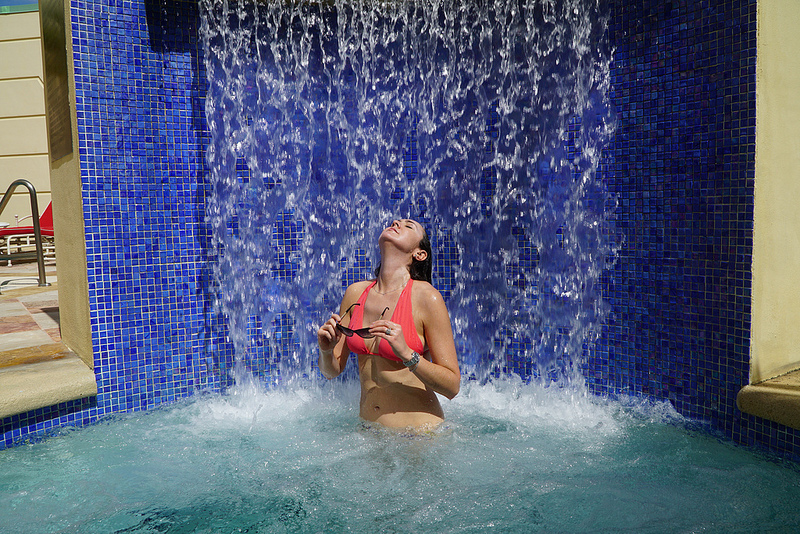 The beaches are less crowded, prices are cheaper and you can enjoy all your favorite watersports and beach activities. Plus, you have Acqualina's Five Star Spa, often ranked as one of the best in the world. And if you want to go down to the scene in South Beach you're only 12 miles away. You can stay at Trump Miami Beach right on the ocean for under $200 a night, prices for an oceanfront room in South Beach will be double that even in the summer. Trump Hotel in Sunny Isles is a great hotel and they even have a complimentary kids program where they'll watch your kids from 10-4 so parents can relax. If you just have to go for the ultimate in luxury though, check out the best luxury hotel in all of Miami, Aqualina Resort and Spa. Obsessed with it there.
Do you have other destinations that you think are perfect for affordable summer luxury escapes? Let me know in the comments!